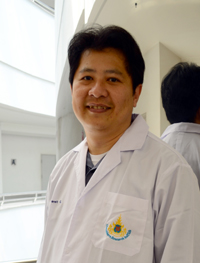 Email: [email protected]
Office: Biomedical Science Building, 7th floor, Zone A
Phone: (66)2 553-8555 ext. 8347
B.Sc. (Biology), Kasetsart University, Thailand

M.S. (Biochemistry), Mahidol University, Thailand

Ph.D. (Cell Biology),The University of Alabama at Birmingham, U.S.A.
My research has been focused on abnormal proteins associated to diseases including inborn errors of metabolism (IEMs) and cancer. IEMs are rare diseases found in children; however, more than 500 types are currently identified around the world. They normally result from defects in a single gene coding for an enzyme in living metabolism. In collaboration with pediatricians, the objective of this research is to reveal unusual inborn errors of metabolism not previously characterized in Thailand and to study the molecular mechanisms by which they lead to their defects as well as to elucidate the correlation between genotype and phenotype of diseases.
The second project is to search novel cancer biomarker. This research aims to identify and characterize post-translational protein modifications mainly in O-GlcNAcylation. This glycosylation is a reversible reaction of the attachement of single N-acetylglucosamine (GlcNAc) molecule to serine and threonine residues which is similar to phosphorylation. Cancer cells usually consume glucose at the high rate. A few amount of glucose can enter into the hexosamine biosynthesis pathway (HBP), a minor branch of glycolysis to produce UDP-GlcNAc, an obligate substrate of O-GlcNAcylation. Elevated O-GlcNAcylation and enzymes responsible for this modification are commonly found in many types of cancer. Understanding of proteins modified by this glycosylation may provide precise mechanisms of cancer biology and O-GlcNAc modified proteins may be novel biomarkers of cancer.
Many laboratory techniques will be used for both researches including proteomic 2-D IEF/PAGE, immunoblotting, immunoprecipitation, mass spectrometry analysis, molecular techniques, RNA interference (RNAi), bacterial and mammalian cell culture techniques, HPLC, DNA sequencing, recombinant protein expression and fluorescent spectrophotometer and microscope.
Member, The Science Society of Thailand, Thailand

Member, American Association of Anatomists, U.S.A.

Organizing committee, Protein Society of Thailand, Thailand
Recipient, Royal Thai Government Scholarship, Ministry of Science and Technology, Thailand

Recipient, Travel Fellowship Award, American Physiological Society, Experimental Biology Symposium, U.S.A.

Recipient (Principal Investigator, #F-31-303-87-01), Coordinating Center for Thai Government Science and Technology Scholarship Student

Recipient (Principal Investigator, #TRG5580006), The Thailand Research Fund

Recipient (Principal Investigator, #P-12-01487), National Science and Technology Development Agency