Home | Research Focus | Research Activities |Publications | Staff | Contact Information |
---
---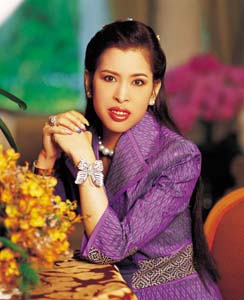 Head: HRH Princess Chulabhorn Mahidol
Ph.D. (Organic Chemistry), Ph.D. (Aquaculture),
Hon. F.R.S.C.
Location: 3rd Floor, Biomedical Science Building
---
---

Thailand and other countries in this geographical region are known to have high incidence of certain types of cancer such as liver, esophageal and cholangiocarcinoma. These cancers are believed to be related to exposure to chemical carcinogens in food, such as aflatoxin B1 and nitrosamines compounded by viral and parasitic infection.
The goals of research in the laboratory of chemical carcinogenesis are:
To study the mechanisms underlying cancer development particularly in systems prevalent in Thailand and in Southeast Asia which may be induced by chemicals and other agents.

To study genetic alterations in certain types of cancers and their relevance to etiology and pathogenesis.

To identify and evaluate new cancer chemopreventive agents from Thai medicinal plants and herbs.
The Laboratory has established a linkage through its memorandum of understanding with the International Agency for Research on Cancer (IARC) in which a laboratory devoted to the analysis of p53 mutations and of alterations in other cancer related genes will be established at CRI in close collaboration with IARC.