Prof. Dr. Her Royal Highness Princess Chulabhorn, the President of the Chulabhorn Research Institute, Thailand spent a 4-day visit to Brunei Darussalam during October 14th-18th, 2013 to deliver a lecture at the Universiti Brunei Darussalam on Risk Assessment and Management of Chemicals and was received by His Majesty the Sultan and Yang Di-Pertuan of Brunei Darussalam.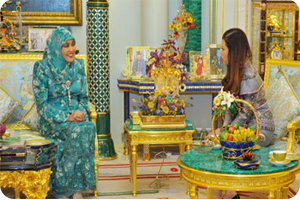 Prof. Dr. Her Royal Highness Chulabhorn was also graciously received by Her Majesty Raja Isteri Pengiran Anak Hajah Saleha

The invitation from Universiti Brunei Darussalam to Prof. Dr. Her Royal Highness Princess Chulabhorn to participate in this event underscored the close and cordial relations between Thailand and Brunei Darussalam, reflecting the long established bond of friendship between the two Royal Families and the two countries.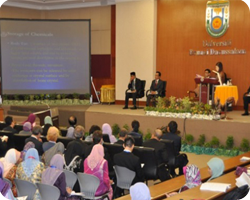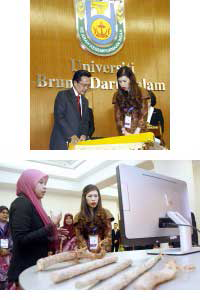 The four days event was held from October 14th-18th, 2013 with opening lecture by Professor Dr. Her Royal Highness Princess Chulabhorn Mahidol, the President of Chulabhorn Research Institute Thailand.

The course focuses on the adverse health effects of human exposure to chemical hazards, such as industrial waste, and other problems faced by developing countries. HRH said she founded the Chulabhorn Research Institute to improve the lives of people in the region through scientific research.

It is a significant platform for training and building national capabilities as well as capacities of expertise among professionals in chemical safety, using a self-guided web-based training tool on the general principles and concepts of risk assessment and management of chemicals. The sound expertise and skills acquired from this training enable professionals to tackle actual and potential problems in various forms (including exposure and hazard from the natural presences, industrial production, transport, use and disposal of chemicals) directly affecting safety of human health, ecology and environment that has enormous negative social, environmental and economic implications to a nation and across the globe.

The course intends to familiarize professionals in implementing 'eDLT' that can help build and expand the pool of the qualified personnel in the region and enable professionals to understand and apply the scientific principles of risk assessment and management in maintaining high standard of practice, efficient provision of services and ensuring safety for the people of Brunei and the global communities, at large.