Research Activities
As AIDS has become an increasing public health concern in Thailand, antiviral agents are much needed. However, due to the high cost of classical drug development, computational chemistry has been employed in aiding the primary structure screening prior to synthesis and biological evaluations. Following the in silico screening, a number of nevirapine derivatives have been proposed as good lead compounds, where nevirapine is a known anti-reverse transcriptase (RT) agent. Development of these derivatives as drugs is being extensively studied. Our focus is to develop a structurally diverse library of nevirapine derivatives using efficient routes of synthesis.
Our interest also includes synthetic routes for some bioactive oxygen heterocycles such as wrighthiadione, coumestan, and diospyrol. Wrighthiadione, a natural product isolated from Wrighthia tomentosa has been shown to display anti-HIV activity by inhibiting HIV-1 reverse transcriptase (HIV-1 RT). Diospyrol is an example of a dimeric naphthol isolated from Diospyros mollis, locally known as Ma-Kluea. Its use as anthelmintic agent has been documented. Michellamines are a group of compounds having diospyrol as their core appended with an isoquinoline unit, collectively known as dimeric naphthylisoquinoline alkaloid. Michellamines were reported to possess anti-HIV property.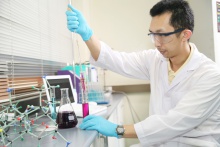 Alzheimer's disease (AD), a neurodegenerative illness leading to deterioration in cognitive functions, is another increasing health problem as the number of aging population in Thailand continues to rise steadily. Inhibition of the enzyme acetylcholinesterase (AChE), involved in degrading the neurotransmitter acetylcholine in nerve synapses, is a promising strategy in the treatment of neurological disorders including Alzheimer's disease. We continue to search for potent and long-acting AChE inhibitors that exert minimal side effects in AD patients. To find novel and more potent AChE inhibitors, heterocyclic compounds, such as coumarin derivatives, have been synthesized and screened for their anticholinesterase activity.In accordance with the objectives of CRI in conducting research focusing on different aspects of cancer, our research also studies the synthesis and modification of various biologically active molecules to develop promising drug candidates with potent anticancer activity. Cytotoxicity of the synthesized compounds is being continuously evaluated in collaboration with the Integrated Research Unit.
As part of our research interest in developing synthetic methodologies, we have expanded the horizon of our program into the area of organometallic chemistry and its application in organic synthesis. Organometallic reactions are powerful tools in developing and devising novel organic reactions, as they represent a new frontier in catalysis and reaction selectivity. Gold compounds and organogold catalysts are a class of compounds which have become important in the field of organic synthesis. We recently started to investigate the reactivity of these compounds and their uses to expand and explore the scope of their reactivities. We are also devising new synthetic methodologies for use in efficient formation of heterocycles, especially those containing oxygen and nitrogen, which are found in many bioactive compounds and drugs. Currently, we have successfully applied organopalladium, organotin, organoboron, organolithium, organocopper, and organomagnesium to a number of organic reactions, leading to novel synthetic methodologies, as well as structural diversity of products. Besides organometallic chemistry, the synthetic utility of other reagents, such as hypervalent iodines, is being actively pursued. We have also used microwave irradiation to increase the yield and reduce the reaction time of these organometallic reactions based on "Green Chemistry". Various synthetic compounds, such as biaryl compounds, cyclic lactone and lactam systems, have been studied to produce a greater number of bioactive compounds.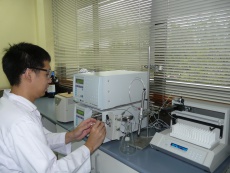 Our laboratory is also interested in and is actively studying cyclic peptides, the compounds which have been found to exhibit a better bioactivity than open-chained ones due to the former's higher stability associated with their ring structure. In term of their bioactivities, the flat ring structure could allow them to permeate through the cell wall of bacteria more easily making it ideal for anti-bacterial treatment. Currently, our laboratory is actively studying the structures and the synthesis of these compounds which may be used to inhibit growth of bacteria.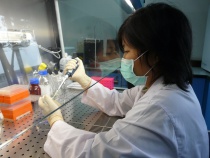 Infectious disease is a ubiquitous health hazard worldwide, particularly in tropical countries including Thailand. The problems increase dramatically due to immunodeficiency diseases and drug resistance. Therefore, recently we are applying our expertise in synthetic chemistry to develop new antimicrobial agents. Our lead compounds derive from both efficient synthetic routes and structural modifications of natural product compounds. We have established an antimicrobial testing unit, with the aim of not only evaluating our compounds but also for purposes of collaboration. For compounds with potent activity, detailed mechanistic studies will be undertaken.
---