Home | Research Focus | Activites | Patents & Awards | Publications| Staff | Contact |
LABORATORY OF PHARMACOLOGY

As Thailand becomes more industrialized, greater amounts of chemicals are being used and residues are inevitably being emitted into the environment. Thus, with technological advancements, humans are increasingly being exposed to environmental toxicants. Moreover, many chronic diseases such as Alzheimer's disease, Parkinson's disease, cancer and cardiovascular diseases are found to be associated with exposure to environmental toxicants. Metals (i.e. arsenic, cadmium, and mercury) and pesticides (i.e. cypermethrin, paraoxon, paraquat and glyphosate) are the two groups of chemicals that we are interested in. Special attention is given to alterations of neuronal muscarinic cholinergic and non-neuronal cholinergic receptors and their signaling pathways leading to the altered physiological responses in chronic diseases. Understanding the underlying molecular mechanisms of the toxic effects of these chemicals may potentially lead to treatment and prevention of the harmful effects of these toxicants.

In addition to cholinergic functions, physiological homeostasis of several systems such as reproductive, immune, cognitive, and circulatory systems are under regulation of the endocrine system. Emerging evidence has indicated that many environmental contaminants possess ability to modulate these systems. Likewise, an increasing amount of evidence indicates correlation of incidences of many diseases induced by chemicals via the mechanism of disrupting the homeostasis of the endocrine system. Environmental contaminants especially the group of metals such as arsenic, cadmium, and mercury which have been termed metalloestrogens in particular are being investigated for the molecular mechanisms on estrogen signaling pathway. Food-drug interaction is the area that we are interested in, especially food contaminated with metals and pesticides. The following are our research clusters.

Research activities of the Laboratory of Pharmacology cover areas in accordance with the research goal of the institute to improve the quality of life of the people; the scope of research ranges from experimental studies at molecular, cell and organ levels, and whole animals. These research activities are:-.

Cancer biology, therapy and prevention

Cancer is the number one cause of death among the Thai population. Finding the way to cure cancer is a challenging task for scientist. Several research projects have been carried out in the attempt to gain better knowledge regarding biology of cancer in order to understand the nature of cancer cells. The obtained comprehensive information on cancer biology will pave the way to research on cancer therapy and cancer prevention as it will provide significant knowledge such as effective targets which will facilitate development of novel anti-cancer drugs and cancer preventive agents. Thailand is known to be a prevalent area of liver and bile duct cancer and the incidence of breast and colorectal cancer is also on the rise. Therefore, cancer research conducted by Laboratory of Pharmacology is focused on colorectal cancer, breast cancer, hepatocellular carcinoma (HCC), and cholangiocarcinoma (CCA). An array of cancer research projects covers from in vitro study using human cancer cell culture to in vivo animal model. Additionally, with the collaboration of Chulabhorn Hospital, our study is currently expanding to human tumor tissues.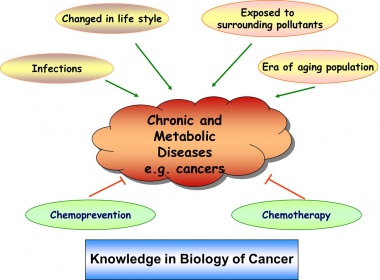 In order to understand the biology of cancer cells, research projects emphasize the molecules and signal transduction pathway that control homeostasis balance of cell growth such as cell cycle regulation and apoptosis cell death. Estrogen signaling is well established as playing a critical role in development and progression of breast cancer. However, accumulated studies have demonstrated the complexity of this steroid hormone signaling and its part in several types of cancer such as liver and colorectal cancer. A study by our group has demonstrated alteration in expression of estrogen receptor subtype and variants in colorectal cancer tissues. This study is ongoing and aims to better understand the role and correlation of estrogen receptor and progression of colorectal cancer. The new collaborative research project on liver and bile duct cancers which are inflammation- and infection-related cancers is just starting. Inflammation due to infection of hepatitis virus and a trematode parasite Opisthorchis viverrini is considered to be a significant factor for development and progression of these cancers. Besides its original hormone property, estrogen and its signaling has been demonstrated to have a complex role in inflammatory responses. Therefore, part of this project is aimed at studying the role of estrogen signaling on inflammation in HCC and CCA.



In addition, the impact of environmental pollutants that affect estrogen signaling is also an area of interest. Study on the effect of heavy metals such as cadmium and arsenic which possess estrogenic and/or antiestrogenic properties on biology of cancer is on progress. The study emphasizes both the genomic and non-genomic estrogen signaling pathways. The ability of these metals to alter estrogen signalings may be significant for their tumorigenicity and toxicity effects.

As Thailand is well endowed with medicinal plants, thus cancer research is expanding to the field of drug development for prevention and intervention of cancer. The molecular mechanism of the potential extracts and pure compounds from Thai medicinal plants is investigated focusing on antioxidation, antiestrogenic/ estrogenic properties, apoptosis and cell cycle machinery. Our group demonstrated that lignans from sesame seeds exhibit phytoestrogen property with weak estrogenic/antiestrogenic effect depending on intrinsic estrogen levels. Currently, the anti-cancer effect of sesame lignans on colorectal cancer and breast cancer is under investigation.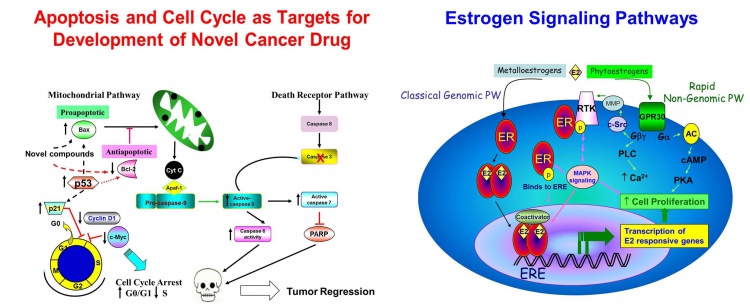 Environmental pollutant-related chronic diseases

As is now well recognized, environmental exposure is linked to the pathophysiology of a number of chronic diseases including cancers, diabetes, cardiovascular diseases, and neurodegenerative diseases such as Alzheimer and Parkinson. Human life expectancy is longer than before, therefore the world population is at risk of developing chronic diseases. The laboratory of Pharmacology, CRI has a mission to understand the basic mechanisms of diseases, pathogenesis, and influences of environmental factors on cardiovascular diseases, diabetes and neurodegeneration. Particular interest is paid to cholinergic muscarinic receptors (MRs) and glycogen synthase kinase-3 (GSK3) signaling pathways in which both involve diverse array of cellular functions ranging from cell proliferation, glucose metabolism and cell death. Moreover, both MRs and GSK3 influence inflammation, a process that plays critical roles in development of many chronic diseases, and is triggered by environmental factors like air pollutants and pesticides. Additionally, dysregulation of GSK3 has been implicated in insulin resistance type II diabetes and Alzheimer's disease. Interestingly, most recently type II diabetes has been identified as a potential risk factor for Alzheimer's disease. Profound understanding in disease pathogenesis and environmental factors that influence the pathological states could lead to prevention and novel-targeted interventions for such diseases which will decrease burden of care for individuals and country as a whole. In our recent studies, we found that in the Cd-induced hypertension animal model was related to its suppression on ACh-induced vascular relaxation by nitric oxide. Treatment with Cd decreased endothelial nitric oxide synthase (eNOS) protein level in blood vessels.




Metal contamination in foods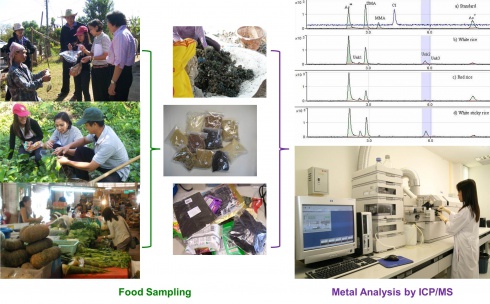 Metals and their derivatives are extensively used in industry, agriculture, and public health. They also occur naturally. Metals such as mercury (Hg), cadmium (Cd), lead (Pb), and arsenic (As) are the main toxic metals released from mining, chemical industry, and coal burning for electricity production. Discharging these metals through wastewater and emission to the atmosphere has led to the contamination of the global environment. High contamination is now found in soil, sediments, and natural water reservoirs. If contaminated soil and water are used on agricultural land or animal farms, these toxic metals may enter the food chain and also herbal medicine and then get into animals and humans. Therefore, animals and humans who consume contaminated food will be at risk from the toxicity of these metals. Apart from human health concerns, the presence of nonessential and potentially toxic metals in agricultural products can have serious implications for international trade. These quality issues can effectively become non-tariff barriers to trade. Germany has set a limit for Cd in wheat grain of 0.12 mg/kg DW since 1986 and Australia and New Zealand set a limit of 0.05 mg/kg DW (1993), which was later increased to 0.1 mg/kg DW (1999). Therefore, the contamination of some toxic metals in foods, herbal drugs and spices should be a matter of concern and studied in detail to decrease or avoid the health problems of animals and humans.
At present, the Laboratory of Pharmacology is sampling different types of foods such as rice, vegetable, fruit, drinking water, meat, seaweed products, and soybean milk from the different markets around Bangkok, Thailand, to determine the concentrations of metals contaminated in these foods by using Inductively Coupled Plasma Mass Spectrometer (ICP/MS). Total arsenic-contaminated rice has been monitored by our laboratory for more than five years to assure its safety. We had successfully developed a method for As speciation in rice using HPLC/ICP/MS. Different types of foods contain different metals and at different levels. Some foods such as pig liver and kidney accumulate high levels of cadmium and arsenic and these foods should not be used to feed infant or young children frequently. The information from our study should raise concern among consumers and related regulatory agencies to minimize the intake of foods and drinking water contaminated with toxic elements.

Natural products for drug development and other value-added products

Traditional medicine has been an integral part of Thai society for centuries. The Ministry of Public Health includes Thai medicinal plants in its list of essential drugs for the primary health care system of the nation. It is generally accepted that therapeutic efficacy and safety must be proven, not only for modern drugs, but also for herbal medicines. With herbal medicines, variations in the levels of active ingredients have been well documented and can account for lack of therapeutic effectiveness and occurrence of side effects.Currently, the research activities of the Laboratory of Pharmacology on natural products involve the development of rapid analytical methods for extraction, identification, and quantification of the phytochemicals from selected Thai medicinal plants. This includes the assessment of variation among plant materials and the standardization of the plant extracts. We have developed High Performance Liquid Chromatography (HPLC) techniques for simultaneous determination of these phytochemicals from many plants. High quality concentrated plant extracts are produced by different techniques, e.g. by freeze drying, spray drying or supercritical fluid extraction. Fingerprints of all phytochemicals present in the plants will be used for the quality control of these plant extracts. The major active compounds present in standardized extracts are also separated and purified to use as reference standards for quality control and pharmacological studies. In addition, as these medicinal plants are normally produced in dried-leaf form or whole plant, they can be easily contaminated with heavy metals and microorganisms from the environment (soil, water, or air) during growing and/or the manufacturing processes when the ready-to-use products are produced. Additional sources of heavy metal contamination are rainfall, atmospheric dust, plant protective agents, and fertilizers. Therefore, determination of some toxic metals such as cadmium, lead, arsenic, and mercury in medicinal plant products should be part of the quality control process to ensure the purity, safety and efficacy of these products.



Our current research in the laboratory also studies the determination of some toxic metals contaminated in natural products available in Thai markets (both local and imported products).Furthermore, pharmacological and toxicological studies of pure active compounds are also being carried out.The pharmacological studies focus on the cardiovascular system, respiratory system, neuronal and immune systems, as well as anti-malarial, anti-oxidant, and anti-cancer activities of the plant extracts and their active compounds. These studies will be carried out both in vitro and in vivo. The studies will have the potential to lead to major discoveries in the development of modern drugs and nutraceutical products for the benefit of human health. The medicinal plants that are currently studied in the Laboratory of Pharmacology are Andrographis paniculata, Dimocarpus longan (longan), Sesamum indicum, Oryza sativa (rice), and Gynostemma pentaphyllum. Andrographis paniculata has been widely used in Thailand.

In collaboration with the Laboratory of Natural Products we found that several pure compounds exhibit antiplatelet aggregation, and antihypertensive action. Dimocarpus longan (longan) has been studied in our laboratory for nearly a decade. We are the first group in Thailand to explore the value-added potential of longan seed, and several pharmacological activities have been found for example antioxidant, antityrosinase, antiinflammatory and antifungal activities. In collaboration with Kasetsart University, we have conducted field research on sesame to obtain the varieties that do not shatter thus preventing loss during harvesting and having high yield of sesame lignans which possess estrogenic/ antiestrogenic activities.In addition, these standardized plant extracts may be used as value-added ingredients in various food products such as fruit drinks, and cooked or canned foods, to enhance their nutritional values and promote good health. The spray-dried longan seed extract developed by the laboratory is used as an active ingredient in some cosmetic products such as herbal hand liquid soap and also in oral care products (e.g. mouthwash). In addition, the process for the preparation of concentrated G. pentaphyllum extract has been registered with Food and Drug Administration of Thailand for the production of this extract as an instant herbal tea. At present, we are in the process of applying for an FDA registration number for food.

Malaria 
Searching for antimalarial activity of compounds derived from natural sources and synthetic compounds has been conducted for more than a decade. In collaboration with the laboratories of medicinal chemistry and natural products, we have found several hundreds of compounds possessing antimalarial activity using Plasmodium falciparum in in vitro culture. However, few compounds have been studied in in vivo models (Plasmodium berghei in mice). The screening for antimalarial activity of those compounds derived from natural sources and synthetic compounds is still ongoing. In recent years, our activities have been expanded to cover factors affecting malarial infection susceptibility due to exposure to environmental toxicants including metals (i.e. arsenic, mercury, and cadmium) and pesticides (organophosphate and paraquat). We are interested in the modification of immune function especially the roles of M3-cholinergic muscarinic receptors present in the lymphocytes, since it is well known that young children are more susceptible to malarial infection than adults. This observation may be due to incomplete immune functions in infants and young children. We anticipate that the results of our study will be useful for having appropriate preventive measures to mitigate or reduce the incidence or severity of malarial infection in infants and young children.

At present, our research activities are at the preclinical stage. In collaboration with the Chulabhorn Hospital and the Chulabhorn Graduate Institute, our research activities will be expanded to clinical studies in the near future.